Railway cable thefts ringleader jailed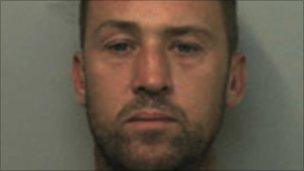 The 34-year-old ringleader of a Derbyshire gang which caused travel chaos by stealing copper cables from rail lines has been jailed.
Lee Bamford, of Calladine Close, Heanor, was sentenced at Derby Crown Court for four-and-a-half years.
He ran an operation that targeted tracks across England, causing delays and cancellations and costing £1m.
Bamford pleaded guilty to conspiracy to steal and conspiracy to covert stolen property, at a previous hearing.
He was jailed for four years and six months for both counts, to run concurrently.
British Transport Police estimated the gang stole more than 32 tonnes of railway cable during an 18-month campaign.
Bamford and his cohorts were responsible for at least 67 cable thefts, causing train delays of more than 300 hours.
Network Rail claimed the crimes cost it £933,896 in repairs and other charges.
Detectives found the gang visited metal recyclers in Derbyshire in order to sell on the stolen cable, often using false names and identification.
The other members of the gang were sentenced last month but Bamford failed to appear in court.
Det Insp Terry Pearce, who led the investigation for British Transport Police, said: "Whilst many criminals see cable theft as a victimless crime, the reality is that it is an attack on communities and the very infrastructure that keeps the country operating.
"Without vital rail services many people cannot go about their daily business which means work hours are lost, appointments are missed and important visits - perhaps to hospitals or loved ones - cannot be made.
"Bamford and his cohorts prevented thousands of people from making such journeys and attacked the railway to make what was, for all the effort and time put into the thefts, a relatively modest amount."
Related Internet Links
The BBC is not responsible for the content of external sites.