Ashbourne mother relives tumble-dryer death horror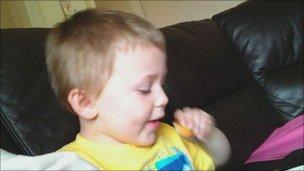 A Derbyshire mother broke down in tears as she told an inquest how she found her four-year-old son dead in a tumble dryer.
Anne Gibson discovered the body of son Sonny at the family home in Ashbourne after a night away on 26 July 2010.
The boy, who was being cared for by teenage family members, is thought to have become trapped in the dryer.
A verdict of accidental death was recorded at Derby Coroners' Court.
Home Office Pathologist Prof Guy Rutty told the inquest Sonny had suffered head injuries, burns and had inhaled hot gases.
Prof Rutty said his injuries showed he died "as a consequence of being inside an active tumble dryer".
The inquest heard that Mrs Gibson had been absent from home for 18 hours, while she stayed the night with friends.
She told the inquest she had not intended to stay over but had had a few too many drinks.
Sonny had been left in the care of teenage family members, which was a common arrangement, but was not in his room when she went upstairs that morning.
She told the court: "I said 'Who's got Sonny up?' and they just grunted at me.
"Then I ran downstairs and checked where he was and I could not find him."
Mrs Gibson, a care assistant, said she checked the usual places Sonny liked to hide, such as behind the settee and in wardrobes. Other family members searched for him outside.
Mrs Gibson called the police after around 30 minutes of searching for him, and was with a police officer when the body was discovered.
Mrs Gibson said: "I checked all the house again, then I looked in the washing machine.
"I don't know what made me look in the washing machine, and then I opened the tumble-dryer door and he was there.
"I opened the door and he was just curled up."
She told the coroner Sonny was: "A proper little boy, mischievous, fearless and liked to hide."
He had been caught trying to climb into the tumble dryer on a previous occasion and knew how to operate it, she added.
Mrs Gibson said: "He was told if you want anything out of the tumble dryer you've got to come and ask but Sonny had no concept of danger whatsoever, he was not afraid of anything."
A police investigation concluded the most likely scenario was that Sonny had kicked the door which sprung back and slammed shut, activating the dryer which had minutes left on its timer.
Det Insp Gary Cathcart told the inquest a piece of cloth found in the tumble dryer with Sonny was part of his blanket.
He said he believed Sonny's death may have occurred between 0700 BST, when a neighbour heard a DVD playing in his room, and 1020 BST, but believed it was probably closer to 0700.
Mrs Gibson was arrested on suspicion of child neglect shortly after the death. All charges against her were later dropped.
Referring to her arrest, deputy coroner Louise Pinder asked Mrs Gibson why she initially told police she was with Sonny that morning.
She replied that she originally said she had nipped out to get some cigarettes to stop family members from getting into trouble.
A teenage family member told the inquest he made Sonny an evening meal before putting him to bed around 2030 BST on the night before his body was found.
He put a DVD on in Sonny's room for him, which happened most nights to help him fall asleep, and stayed in until another family member came home about two hours later.
He told the inquest he went to the local park but checked on Sonny about 0130 BST, before going to bed.
Related Internet Links
The BBC is not responsible for the content of external sites.