Bess of Hardwick's life of letters to go on display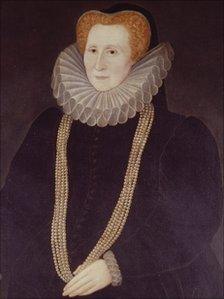 More than 200 letters sent and received by a prominent Derbyshire noblewoman are to be revealed to the public.
Bess of Hardwick, who became the Countess of Shrewsbury in 1568, was regarded as one of the most capable and ambitious women of the Elizabethan age.
The 230 letters have been transcribed by a team of experts at the University of Glasgow.
The exhibition at Hardwick Hall near Chesterfield will allow visitors to see their content for the first time.
The letters include exchanges with friends, lovers, royalty and spies.
Bess of Hardwick married four times before becoming the Countess of Shrewsbury.
In that time she helped build and restore many houses and halls, including the Chatsworth estate in Bakewell.
One of her letters deals with the preparation of Tutbury Hall for a visit from Mary, Queen of Scots.
Others provide candid detail about Bess's troubled marriage to her fourth husband, George Talbot.
Nigel Wright, Hardwick Hall's collections manager, said: "The nice thing about these letters is that they reveal the real lady.
"She may have been a very rich countess but she still had problems with her children and her final marriage ran into trouble.
"These letters help to humanise the people involved."
Related Internet Links
The BBC is not responsible for the content of external sites.