Fire risk warning to Peak District walkers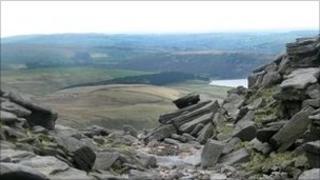 There is a "high" risk of fire on Peak District moorland because of the recent dry weather, according to park rangers.
Lack of rain in recent weeks has dried out the moors making them vulnerable to fires which harm wildlife and destroy rare plants.
Firefighters and Peak District National Park rangers have tackled six moorland fires since the beginning of April.
On 9 April two fires broke out in the Peak District; one near Huddersfield and another in Staffordshire.
The Peak Park Authority is also asking people not to smoke or light barbecues in order to prevent fires starting.
Signs warning people to take extra to prevent fires have been erected.
Peak District National Park head of field services, Sean Prendergast, said: "It is glorious weather for walking on the moors, but we're asking people to be especially careful at this time of high fire risk.
"These are not empty places, they're areas of international importance for their wildlife and plants, and they absorb and store carbon which helps tackle global warming.
"Moorland fires undo many years of hard work in managing these rare environments.
"If people see anyone acting suspiciously on the moors we ask them to report it to the police immediately."