Derbyshire greats to get blue plaques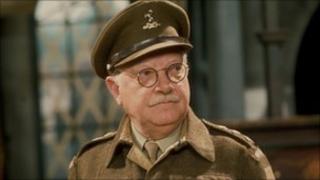 Members of the public are being asked to suggest notable Derbyshire people and places to be honoured with a blue plaque.
Derbyshire County Council wants people to nominate famous names and locations which have made a big impression.
The scheme was launched in 2009 and those already honoured include Dad's Army star Arthur Lowe and 19th Century architect Sir Joseph Paxton.
Anyone nominated must have died at least 20 years ago.
The council also wants to hear suggestions on where a plaque could be placed for each person put forward.
A judging panel will draw up a shortlist from the suggestions and the chosen six will be announced following a public vote in September.
Nominations can be submitted by post or through the Derbyshire County Council website.
Suggestions can include war heroes and memorials, famous artists and entertainers, philanthropists, entrepreneurs and buildings of historic or architectural importance.
Martin Molloy, strategic director of cultural and community services, said: "We have had quite a few names put forward already but I am surprised none of the bigger names are on the list.
"I think people imagine somebody else will have nominated the more obvious choices but if they are not on the list, they cannot be honoured."
The closing date for nominations is 3 May.