Funeral girl Donna Shaw loses bone cancer fight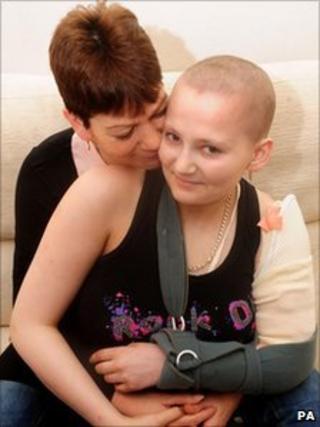 A Derbyshire teenager who began planning her own funeral after developing a rare form of bone cancer has died.
Donna Shaw was diagnosed with Ewing's Sarcoma in February 2010 and despite surgery and chemotherapy was told nothing more could be done.
The 17-year-old from Alvaston passed away at her mother's home on Monday.
After being told she had only months to live, Donna organised "every detail" of her funeral, her family said.
She will be cremated wearing the bridesmaid's dress she wore at the wedding of her mother Nikki Parker and her stepfather.
Speaking on Wednesday, Mrs Parker said: "She wrote a letter with all the funeral arrangements. Who she wanted to carry her coffin, the colours of the flowers, the songs - Michael Jackson, Whitney Houston.
"You never expect to bury your children before yourself, but I know my daughter will always be looking down on me. Obviously God wanted her for something better.
'So well-loved'
"Last night in Alvaston, 40 of her friends all lit candles for her, which was very touching. I couldn't believe how many people loved my daughter - it's unreal.
"I went on to her Facebook page this morning and it took me over an hour to read all the wishes. She was so well-loved and so well-liked, and it's like everybody says - she's gone but she'll never be forgotten."
After being diagnosed, Donna had surgery to remove 80% of the main tumour in her shoulder, then underwent chemotherapy, but in January doctors said the cancer had spread.
"She screamed, she cried, she swore but then she just took everything they threw at her," Mrs Parker said.
"She never gave up, she tried everything the doctors asked. She had the operations, all the blood transfusions, the scans and she just carried on as normally as she could."
Donna's funeral will be held at Markeaton Crematorium on 3 May.