Arrest on suspicion of murder after Normanton attack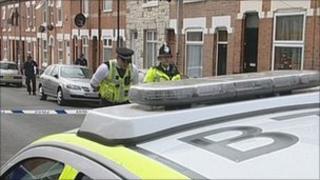 A 25-year-old man has been arrested on suspicion of murdering a Polish man who died in hospital after an attack by a gang of about five masked men in Derby.
Police were called to a fight in Cummings Street, Normanton, at about 1940 BST on Saturday.
Serioza Lawskoski, 29, of Leacroft Rd, Peartree, was found in the street unconscious. A post mortem examination revealed he died of head injuries.
Forensic teams were examining the scene and police have appealed for witnesses.
Mr Lawskoski was treated by paramedics at the scene and taken to the Royal Derby Hospital where he was pronounced dead.
Neighbours said he had been attending a family party and was attacked as he left.
The victim's extended family have been visiting the scene to pay their respects.
Police said the attackers were wearing dark clothing, heavy jackets and balaclavas and were armed with baseball bats or sticks.
After the assault, the men left the scene along Lower Dale Road and up Silverhill Road.
Det Supt Andy Stokes, who is leading the investigating said: "This is a tragic incident and I'd like to offer my condolences to the victim's family and friends."