IPCC finds fatal fire police acted 'appropriately'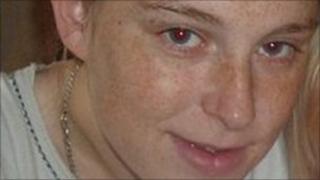 An investigation into the actions of Derbyshire Police prior to a fire which killed two children has found the force responded appropriately.
Fiona Adams, 23, was cleared of murdering two of her children in a fire at her Derbyshire home in April 2010.
The Independent Police Complaints Commission (IPCC) examined how police dealt with reports of nuisance behaviour at Ms Adams' property.
The IPCC said police acted "in accordance with force policy".
The investigation also centred on police actions to a call Ms Adams made an hour before the fire.
'Domestic incidents'
Ms Adams escaped with her baby son Kiernan but her daughter Niamh, five, and son Cayden, two, died in the blaze at Edale Way, in Buxton, on 23 April 2010.
Ms Adams rang Derbyshire Police at 2245 BST on 23 April to report that someone had just been in the backyard of her house causing damage and banging on the door.
Police arrived at her house 15 minutes later and found wooden units and a barbecue had apparently been tipped over.
Officers had attended the house on several occasions in the past three years regarding domestic incidents and reports of criminal damage, the IPCC said.
The investigation found officers were dispatched and arrived promptly in response to Ms Adams' call on the evening of the fire and the four officers involved properly conducted an area search for potential suspects.
IPCC Commissioner Amerdeep Somal said: "In view of the fatal consequences of the fire and the historic contact Derbyshire Constabulary had with occupants at the house, the IPCC has conducted a thorough investigation.
"We have undertaken a detailed examination of how police officers responded on the evening of the fire and to previous incidents at the address.
"I am satisfied police acted appropriately and in accordance with force policy. I believe police did all they reasonably could in their actions prior to the horrific fire which caused such sad loss of life."
Ms Adams was cleared in February of murdering the two children in the fire.