Quad in Derby to get £200,000 revamp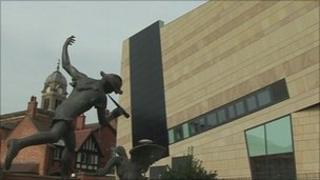 A centre for arts and film in Derby is to undergo a £200,000 revamp of its ground floor - after opening less than three years ago.
The money will be spent on the cafe, kitchen and reception desk in the Quad, which opened in September 2008.
Staff hope the work, funded partly by the Arts Council, will make better use of the space.
Deputy director Adam Buss said ideas for the refurbishment had been based on feedback from the public.
"Like any building, a house or any public building, especially public a public building, you make a design and you base principles on logic and decision, that architects who are far cleverer than me have decided upon.
"But then the public use the space and the public takes the space and they use it for the way they want to use it, there are various things within our programme which are outside of our remit of art and film that do have a key place in what we do."
Between 9 and 26 May the box office the box office and cafe bar will temporarily operate from the centre floor but the cinemas will not be affected.
The centre's gallery and BFI Mediatheque will be closed during the refurbishment period.