Chesterfield pitch invasion supporters banned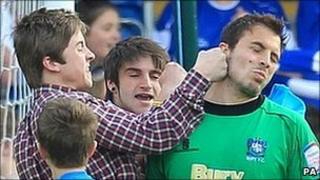 Chesterfield FC says it has identified and banned 17 people involved in a pitch invasion at the club's b2net Stadium at the end of April.
The club said among those traced was a youth who is alleged to have punched Bury goalkeeper Cameron Belford during the League Two match.
The Football Association (FA) said it did not propose taking any further action over the disorder.
Derbyshire Police arrested and bailed six people over the pitch invasion.
A spokesperson from the force said five of those arrested were aged between 13 and 18 and one 38-year-old man. They have all been released on bail pending further inquiries.
'Yellow card'
The pitch invasion happened after one of Chesterfield's goals in a game Bury went on to win 3-2, clinching promotion to nPower League One and delaying the Spireites' clinching of the League Two title.
The club - which described those involved as "idiots" - had been fearful of a heavy fine from the FA, but believes the speed at which those involved were identified, as well as an increase in the number of match day stewards, helped avoid sanctions.
However, the FA has reserved the right to return to the matter if there is further spectator misconduct at the stadium.
Chesterfield chairman Barrie Hubbard said: "In football terms we have been yellow carded but it could have been so much worse because the FA has a wide range of sanctions at its disposal.
"The strong line the club has taken in conjunction with the police, and the clear warning to fans about future behaviour, which was so impeccably observed at the Gillingham game, has clearly all been taken into account."
He added: "The fans have shown they can behave and celebrate in a responsible manner and this has set the standard now expected at all future matches."
Investigations to identify others involved in the disorder were ongoing, the club said.