Derbyshire lace used in Kate Middleton's wedding dress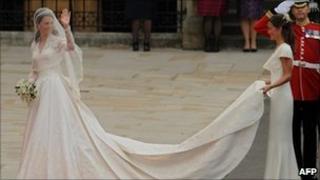 A Derbyshire company has been shocked to find out it had had a hand in the Duchess of Cambridge's wedding dress.
Cluny Lace in Ilkeston hoped to be involved in the making of the gown.
However, it was not until the details of the dress were released after the wedding that the company realised its lace had been included in the design.
Sales manager Kate Knight said: "On the bride's dress it was used on the underskirt and some of our motifs were used on the train."
She added: "It was most prominently on the bridesmaid's underskirts and around their neck and sleeves."
Miss Knight said the first clue they had that their lace might have been used was when the dress was described as having a mixture of French Chantilly lace and English cluny: "At that point I thought 'hopefully that's us'.
"We are the only manufactures left in the UK that makes lace so when they said they wanted to use English products we hoped we might be involved.
"But we had no idea before the day."
The dress-makers have since confirmed to the company that its lace was used in the dress, designed by Sarah Burton of Alexander McQueen.
Cluny Lace was established by the Mason family in the 1760s at the start of the Industrial Revolution when the fabric was first produced by machines.
Many of the company's patterns are made nowhere else in the world.
The day after the wedding many of the company's staff studied magazines such as Hello and Grazia to try to see where the lace had been used.
Cluny says it hopes the royal wedding will provide a boost to what it calls a "dying trade".
Miss Knight said: "It certainly puts lace back on the map and highlights that there is a UK manufacturer still in existence so everything's a help at this stage."