Derbyshire Community Champions lauded by stars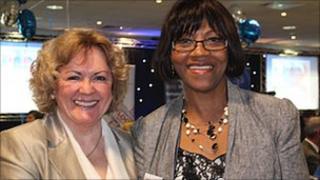 Some of Derbyshire's unsung heroes have been recognised in the county's annual Community Champions awards.
The 14 winners were honoured at a special event at Pride Park Stadium in Derby on Sunday night.
Each was honoured for their dedication to local communities and for inspiring others.
They were selected by BBC Radio Derby and the Derby Telegraph and joined by celebrities including swimmer Ross Davenport and actress Gwen Taylor.
Gwen Taylor said: "I think it's wonderful. When I was younger it was never thought of - people hid their lights under bushels - they were never praised for what they did.
"I think it's a great boost to the whole community when people are recognised for what they're doing."
BBC East Midlands Today's Dominic Heale, former Apprentice contestant Howard Ebison and Bargain Hunt personality Charles Hanson were also among the people handing out the awards.
Margaret Cordwell, who has raised £100,000 for cancer charities since the 1970s, together with her late husband Ron, received the Fundraiser of the Year award.
Derby County footballers Ben Davies and Lee Croft, with Rams chief executive Tom Glick, handed 13-year-old Sophie Walker her Children in the Community award. Sophie cares for her mother who has Huntington's Disease.
Actress Georgia Groome presented the Courage Award to Jade Swain, who had her nose amputated because of cancer and is now in remission.
Throughout her illness, Jade held online auctions to raise money for CLIC Sargent, the charity which helped her during her cancer fight.
She has so far raised more than £1,000 by selling jewellery and make-up donated to her.
Community Champions 2011
Achieving Against the Odds Award - Hannah Spencer
Chief Constable's Special Award - Jim Hardy
Great Neighbour Award - Bob Farmer
Be Inspiring Award - Maria Hanson
Mayor's Special Award, Diversity - Rosie Mychajlow
Kindness to Animals Award - Pat Plumpton-Edwards
Cultural Champion Award - Angie Doughty
Unsung Sporting Hero - John Lewis
Extra Mile Award - Geoff Holland
Adult Volunteer Award - Rekha Thaker
Carer Award - Enid Francis
Fund-raiser of the Year - Margaret Cordwell
Children in the Community Award - Sophie Walker
Courage Award - Jade Swain