Igor Stimac visits Derby fan in Croatian hospital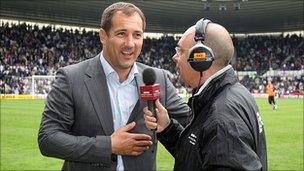 Former Derby County captain Igor Stimac paid a surprise visit to a Rams season ticket holder who needed to go into hospital while on holiday in Croatia.
John Foster, 74, from Heage, had emergency surgery in Split after falling ill during a coach trip.
His son Mark contacted Mr Stimac through Derby County - because he was the only Croatian he could think of.
The ex-footballer travelled 100 miles to visit Mr Foster in hospital and helped arrange flights back to England.
He said: "It made me feel sad when I heard about it because they were supposed to be on holiday.
"I went along to see if there was anything I could help with and perhaps pay a little bit back from my time in Derby."
Mr Stimac played 84 games for Derby County between 1995 and 1999 and was part of the Croatia team which reached the World Cup semi-final in 1998.
Mark Foster said his parents were astonished to be visited by one of their favourite players.
He said: "I think they were both overwhelmed to begin with but very happy to see him.
"They sat and talked about some of their memories of matches he'd played in.
"I think he understood my parents were a long way from home, just like he was when he first came to Derby."
Since retiring as a player, Mr Stimac has worked as a manager in his home country and was in charge of NK Zagreb until last year. Before that he managed Hadjuk Split and Cibalia.
He currently lives in Zadar but regularly comes back to Derby to play in charity matches.
John Foster is now out of hospital and will fly home shortly.
Related Internet Links
The BBC is not responsible for the content of external sites.