Derbyshire rapper Olly B not 'too cool for school'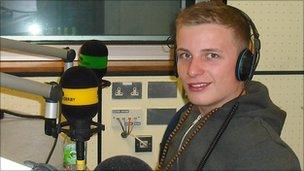 A 15-year-old singer and rapper from Derbyshire has been combining study for his forthcoming GCSE exams with a pop career.
Olly Barney, who performs as Olly B, has had his tracks played on BBC 1Xtra and Channel AKA, and one of his videos had 200,000 visits on YouTube.
The young rapper, from Tissington, says he is "coping" with a hectic regime of daytime revision and evening gigs.
He said he was determined to pass his exams to make his family proud.
"I'm the only one in my family who's stayed on past the age of 14/15 so it's kind of new to us," he said.
"This Thursday I've got a show in York and then an exam. It's hard to balance it out but I'm coping."
Olly was inspired to pursue a music career by the death of his brother in a car accident three years ago.
He said: "My album is called The Morning After because the morning after my brother died was when I first started writing music.
"I've put my whole life into this so getting played on BBC 1Xtra was cool. It made me feel like all my hard work was finally starting to pay off."
Olly, who has also lived in Surrey, Birmingham, London and Uttoxeter, is currently unsigned but is hungry for success.
He said: "I don't really want to be famous, I just want to be myself and have people respect the music I make.
"I want it to be organic so when people look at me they don't see a sell-out, they see someone who's thought about the music they make."
Related Internet Links
The BBC is not responsible for the content of external sites.