£20,000 gateway sculpture installed at Heanor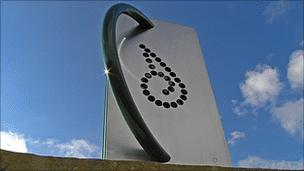 A new £20,000 artwork has been unveiled to mark the gateway to a town in Derbyshire.
The 2.75m (9ft) high "Wings and Wheel" sculpture was created by local artist Rachel Carter and placed at the Derby Road/Market Street junction in Heanor.
The steel structure is inspired by the town's history of textile manufacturing and the logo of former knitwear factory I&R Morley forms part of the design.
Ms Carter said she was proud to be asked to come up with the artwork.
She said: "It's been a great opportunity for me to give a sculpture to the town where I was born and raised.
"The textile industry was a major employer in this area for over a hundred years, in particular I&R Morley. Elements of their 'Flying Wheel' logo became a key part of my design."
The artist said she had used locally-sourced steel for her sculpture, which sits on top of a base made from Derbyshire sandstone.
Amber Valley Borough Council commissioned the artwork - paid for by a mixture of arts and private sector funding.
Ms Carter is based in Ilkeston and recently received a merit award at the Chelsea Flower Show for her display of giant eggs made out of willow.
Related Internet Links
The BBC is not responsible for the content of external sites.