Derbyshire man admits push-into road attack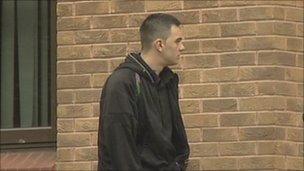 A 19-year-old has admitted attacking and pushing a man into a Derbyshire road, where he was then run over.
Ashley West, 20, was pushed into the busy Derby Road in Borrowash, which police said left him "within a hair's breadth of being killed".
David Kerry, from Kimbereley Road, Borrowash, admitted causing actual bodily harm and one count of grievous bodily harm at Derby Crown Court.
Mr West was left critically injured in November 2010.
He had been on a night out with friends when he threw a pot plant at a house, something he now admits was out of character and "silly".
Kerry then launched into the attack, leaving Mr West injured in the road. He was the struck by car coming over the brow of a hill.
Mr West subsequently broke most of the bones in his body, including his spine and pelvis, and needed 11 operations.
Now out of hospital, he said: "It does make me feel sick.
"[There are] two metal rods and 16 pins down my spine, it's not going to help anybody's back. My foot - it's stopping me from walking.
"I loved football before the accident and now they've said I'll never play football again."
After the hearing, Insp Jim Allen of Derbyshire Police said: "Kerry went well over the top with his vigilante response to a relatively minor incident and just took it way too far and left a man within a hair's breadth of losing his life."
Kerry is due to be sentenced in three weeks.
Related Internet Links
The BBC is not responsible for the content of external sites.