Painter Jones aims for world decorating title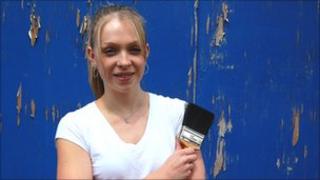 A young Derbyshire painter and decorator is hoping to be crowned the world's best in her field.
Sadie Jones, 22, of Swadlincote, is aiming to represent the UK in London's WorldSkills 2011 contest in October.
Miss Jones, who trained at both Burton and Derby colleges, was inspired to study decorating after painting her own flat when she left school.
She said: "I was shocked to be considered for the competition but I knew I just had to do it."
Following her training she set up her own company and is now one of three decorators in the final selection for the UK team.
The painter has taken part in national decorating competitions before but added this was something she had not expected: "It's pretty big... but if I become a member of Team UK it will be a huge honour."
Intensive decorating
With only one place remaining in the team, to be announced in June, Miss Jones is taking part in intensive training.
If successful, she will compete with other decorators from around the world in front of more than 150,000 spectators at the world's largest vocational skills contest.
To take the title, she will have to excel in preparation, painting walls, wallpapering and glossing, as well as being able to follow technical drawings.
Miss Jones, who admits to being a perfectionist, said: "I look at decorating anywhere I go and think 'I could improve that!'
"If the job's not right I just can't stop going back to it.
"Everyone was against it when I started out on the course - now they all want me to decorate the house!"
However, she said her least favourite job is sanding - but she does it to "get that ultimate finish".