Derby Hippodrome group's restoration plan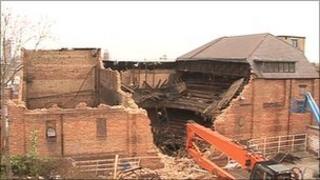 A group aiming to restore a derelict Derby theatre has said it is confident it can be saved.
The Grade II listed building has been empty for years, and part of it collapsed in 2008.
A professional study into the benefits of restoring the venue is being planned by the Hippodrome Restoration Trust, a local voluntary group.
This, it is hoped, will persuade the city council to allow the trust to take over ownership of the venue.
The theatre is currently owned by a private property developer but the council is obliged to maintain it because of its listed status.
Joan Travis, from the Hippodrome Restoration Trust, said: "I am quite sure that once it was acquired for us the idea would take off, everybody would join in and say 'at last!'.
"I think some people have got a little depressed with the waiting but having talked to lots of people, they are ready to come forward."
The restoration study is likely to cost about £20,000, with estimates for the restoration of the theatre reaching as high as £20m.