Christchurch earthquake: Suitcase returned four months on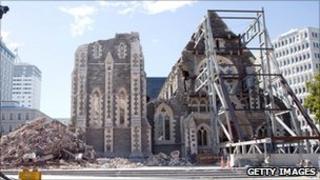 A Derbyshire woman who was forced to flee her hotel during February's Christchurch earthquake has had her suitcase and clothes returned.
Beryl Tacon, 83, from Wirksworth, was on holiday in New Zealand when the 6.3 magnitude quake struck.
Ms Tacon said jet lag that made her late for a visit to nearby Christchurch Cathedral, which was badly damaged by the tremors.
She said it was "very kind" of the hotel to return her items.
"It must have been an awful thing to do, having to pick all the clothes out of the broken glass and china and then repack them," she said.
"I'd given up hope of ever seeing my things again but everything is just as it was. The packing is perfect."
"The end of me"
Ms Tacon said she counted herself very lucky not to have been inside the cathedral during the earthquake, which claimed 181 lives.
She said: "I was planning to visit the cathedral in the morning because there was a flower show I wanted to see.
"It was only the fact I was a bit jet lagged from flying the night before that meant I didn't go earlier.
"If I had been in there I think it would have been the end of me."
Aftershocks have continued to hit Christchurch in the four months since the earthquake and Ms Tacon said she would like to know more about how people there have been coping since the disaster.