Ex-Derby County player Willie Carlin has medal stolen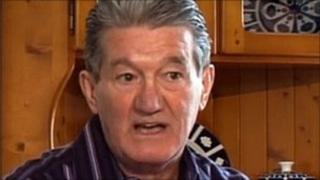 A former Derby County footballer has appealed for the public's help in recovering a gold medal which was stolen from his home.
Thieves took the 1969 Division Two winner's medal from Willie Carlin's house in Allestree on 28 April.
The 70-year-old, who formed a key part of Brian Clough's promotion-winning side, is hopeful the circular gold medal can still be recovered.
The thieves also took a gold pendant belonging to his wife.
"Winning that medal meant I was in the First Division for the first time," said Mr Carlin.
"To win a medal through hard work and then lose it in this way is very difficult."
Police said they had gathered forensic evidence from the burglary, which took place between 1200 and 1400 BST.
Sgt Matt Williamson said: "The nature of the medal would appeal to collectors so I'm hopeful it hasn't been melted down."
Anyone with information should contact Derbyshire Police.