Bombardier reviews UK business after Thameslink blow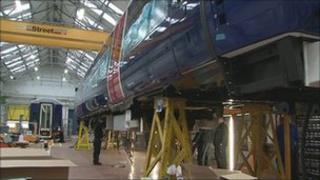 Train-maker Bombardier is to review its UK operations after missing out on a major contract to build carriages for the Thameslink project.
On Thursday, it was announced the Derby firm had lost out to German company Siemens, which was named preferred bidder for the estimated £1.4bn deal.
Bombardier, which employs 3,000 people in the city, said a "full review" would take place as soon as possible.
It would not comment on the future of the plant or potential job losses.
Securing the Thameslink contract was regarded as crucial for the Derby site - the UK's last remaining train factory - as most of its current orders will soon be finished.
The Unite union said the news was a "hammer blow" for Derby and for British manufacturing.
'Tough decisions'
A spokesman for Bombardier said: "I can confirm that Bombardier will be conducting a full review of its operations.
"We have told our staff that we realise that this is a period of uncertainty and we will try to ensure that the review is conducted as soon as we can.
"However, we are not issuing a time scale. It's important that this review is conducted thoroughly."
Some "tough decisions" would have to be made, he added.
The company said it was working with unions and would keep employees informed, while Unite has pledged to put pressure on the firm and the government to keep the factory open.
The £6bn North-South cross-London Thameslink programme will require 1,200 new carriages.
Transport Minister Theresa Villiers said in a statement that the Siemens-led venture represented the best value for money for taxpayers.
In total, Bombardier employs about 5,000 rail staff in the UK.