Derbyshire schools in strike disruption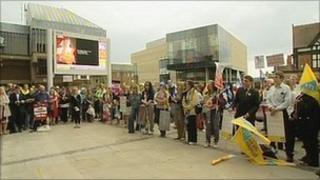 Nearly 200 of Derbyshire's schools were shut or partly shut by the national public sector strike.
The county has 431 schools about 140 of which said they would be affected while about 50 of the city council's 103 schools said they were hit.
Teachers at a protest march in Derby said the action had been forced on them by government policy.
Civil servants across England and Wales are striking over planned changes to pensions.
Among those taking part in the 24-hour action are members of the National Union of Teachers (NUT) and the Association of Teachers and Lecturers (ATL), who say the proposals will mean them working longer and paying more.
'No flexibility'
The NUT said it expected 85% of schools in England and Wales to be affected but Department for Education data suggested 11,114 of the 21,500 state schools in England were hit by the walkouts.
Keith Venables, the union's Derbyshire president, said: "Our aims today are to get our message across to the public, to support those who have taken strike action and to build a broader campaign for justice around pensions.
"A deal was agreed in 2002 which seemed to work out financially. Then this government, without doing any more figures, has said 'we'll increase how much you must pay per month by 50%, we'll make you work longer - and some people work a lot longer - and we'll pay you less at the end'."
Speaking at a protest in Derby's market place, John Blanchenot - director of sport at Kirk Hallam Community Technology and Sports College - said: "I've not talked to anyone at our school who really wants to go on strike but we've found it unavoidable.
"The government doesn't seem to want to listen and there's no flexibility. My wife is a teacher and together we would be £300 worse off from these changes.
"The government think the general public won't be sympathetic to teachers and they'll be able to get away with it."
Travellers were also warned to expect delays on arrival at UK ports and airports on Thursday as hundreds of immigration and customs officers joined the action.
Those include UK Border Agency staff at East Midlands Airport.
Agency spokesman Marc Owen said: "We had robust contingency plans in place and while a number of officers have gone strike, it's pretty much business as usual at East Midlands."
Union leaders have said there are still major divisions between them and the government over three key proposals - to raise the pension age, to increase workers' contributions and to link pension values to the generally lower consumer prices index (CPI) rather than the retail prices index (RPI).
The prime minister has insisted the pension changes would secure affordable pensions for decades to come.
The government said reforms were necessary because as people live longer the cost of funding public sector pensions was "unsustainable".