Elvaston Castle faces £6.5m repair bill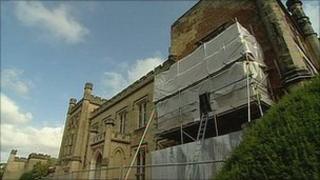 A Derbyshire landmark needs nearly £6.5m in repairs to secure its future, according to a new report.
Elvaston Castle was acquired by the county council in 1969 but is now only rarely open to the public.
A survey by building specialists, funded by the council and English Heritage, said the roof of the main building was in a poor condition.
A council plan for a hotel and golf course is being opposed by groups who claim the house should remain public.
The castle - mainly a 19th Century country house - stands in more than 200 acres of parkland and gardens and attracts about 300,000 visitors a year.
The survey also covered the grounds and found lakes were silting, unstable walls and general poor landscape conditions due to erosion and vandalism.
Massive bills
Graham Mansey, from the Friends of Elvaston Castle, said the site needed a new use.
"It is now 15 years since the council first mooted the sale of the place and 11 years since they had it on the market. Here we are 11 years later and nothing has been signed by anyone.
"People keep asking for permission to hold events and we can see just what revenue is being lost by the council."
Derbyshire County Council Cabinet Member for Finance and Management, Councillor John Harrison, said the report meant they had solid information to guide future funding decisions.
He added: "The county council will continue to own the castle and country park and aims to do this while maintaining public access.
"We are committed to this but without burdening Derbyshire County Council tax payers with massive bills."