Arc Leisure Matlock: Opening date set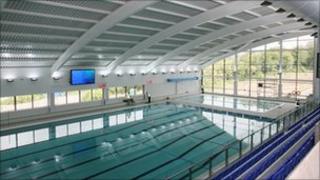 A new £12m leisure centre in Derbyshire is to open later this month.
Arc Leisure Matlock, featuring two swimming pools, a large sports hall and a fitness suite will open to the public from 24 August.
The unveiling of the new facility means the 73-year-old Matlock Lido will close for good on 14 August.
Geoff Stevens, chairman of Derbyshire Dales District Council, said he was confident people would be impressed by the new centre.
He said: "It is a fabulous building in a fabulous setting and a superb response to what Derbyshire Dales residents told us was desperately needed in this area."
Work on the new centre, built on an area of reclaimed land between Matlock and Darley Dale, was completed on schedule.
It was funded by the district council, the East Midlands Development Agency (Emda), Sport England, the Amateur Swimming Association, and the Matlock and Area Sports and Recreation Group (Mars)
Mr Stevens said members of Matlock Lido would be able to transfer to the new centre at no extra cost.
"It's our intention to celebrate the life of the Lido through photographs and memories over the coming weeks and months," he said.