Matt Hamilton joins British Touring Car Championship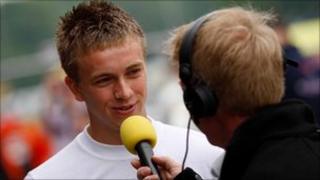 A University of Derby sports psychology graduate is to put his studies straight into practice by competing in the British Touring Car Championship.
Matt Hamilton, 21, who completed his joint degree with sports development in June, will line up for TH Motorsports next season.
Hamilton, who lives in Hemel Hempstead, began racing go-karts when he was eight and moved to cars when he was 16.
He said he was looking forward to putting his studies to good use.
"Everything I've learned helps me when I race," he said. "Especially as motorsport is such a mental sport.
"Once you're in the car, your mind is in complete control of how the race goes."
'Bad performances'
Hamilton debuted for TH Motorsports at the end of the 2009 season and started the 2010 championships before the team were forced to pull out due to financial constraints.
Now he is working with the team on developing a new car to rejoin the championship in 2012 and he hopes he can prove he has a psychological advantage over other drivers.
He said: "Driving fast and winning races is down to confidence.
"You need to be able to learn from past experiences but not to let bad performances haunt you."
John Pates, sports psychology lecturer at the University of Derby, said: "We're all really pleased for Matt and wish him the best of luck for his future in motorsports.
"This proves the variety of roads a degree can take you down."
Hamilton will formally graduate at a University of Derby awards ceremony in Buxton on 3 December.