Bombardier 'should bid for Crossrail' says minister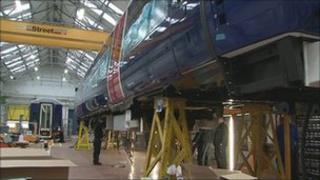 Trainmaker Bombardier has been told by the Transport Secretary Philip Hammond to bid for contracts for a new railway in London.
He said the Derby-based firm should try to win the deal to supply about 600 carriages for the £16bn Crossrail project, linking east and west London.
The firm is cutting 1,400 jobs in Derby after losing a £1.4bn Thameslink contract to German rival Siemens.
About 200 people travelled to London to fight for Bombardier's future.
'Disastrous decision'
Mr Hammond said: "There are a number of contracts the government would expect Bombardier to bid for, including the Crossrail project for the supply of around 600 carriages, for which Bombardier is already a pre-qualified bidder.
"The tender for this contract is due to be issued in 2012. There are also potential future orders for the London Underground deep Tube line."
A Unite union spokesperson said: "What the 3,000 workers in Derby need is certainty not ifs, buts or possibilities.
"Any support for Bombardier is welcome but the real issue here is for the government to rethink its decision on Thameslink."
Labour MP Steve Rotherham said awarding Siemens the contract ahead of Bombardier was a "disastrous decision".
In June, the government announced German group Siemens as the preferred bidder to build 1,200 carriages for the route between Bedford and Brighton.
The government defended its decision, saying the contract offered taxpayers better value for money.
Derby City Council agreed to fund a potential legal review over the decision to award a £1.4bn contract for railway carriages to Siemens.
The authority said it would support a move by Unite to challenge the government.