Ideas needed to secure future of Dovedale toilets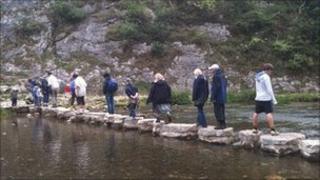 Ideas are being sought to help avoid the closure of public toilets at a Peak District beauty spot visited by about a million people each year.
The Peak District National Park Authority, which faces budget cuts of £1.7m by 2015, said the toilets at Dovedale cost more than £17,000 a year.
It wants to hear suggestions from local people and organisations by the end of October.
The toilets are likely to shut in March 2012 if a solution is not found.
They are situated within Dovedale's car park, which is privately owned, with the surrounding land belonging to the National Trust.
Richard Campen, of the park authority, said: "Elsewhere we own other facilities nearby, such as car parks or snack kiosks which help support the associated toilets, but in Dovedale this is not the case."
Residents of the nearby village of Thorpe, which many visitors pass through on their way to Dovedale, have raised concerns that the closure could increase the numbers using their public toilets.