Derby's Normanton Road scene of one-in-10 city crashes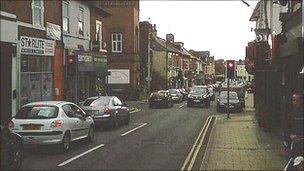 One in 10 serious car accidents in Derby happens on or around Normanton Road, the city council has revealed.
New figures show about 10% of crashes involving someone being killed or injured in the past three years took place there or on adjoining streets.
Derby council also revealed that Arboretum, the ward in which Normanton Road sits, accounted for 20% of the city's total road casualties.
The council said the figures reflected how much traffic used the road.
Chris Poulter, the council's cabinet member for neighbourhoods, said the majority of the 70 serious crashes on the road itself over the past three years had only resulted in minor injuries.
He said: "There are a variety of accidents happening at the moment and it looks to be associated with the junctions along the road and the weight of traffic.
"This is ultimately a very busy district and centre within the city and there are some very tight manoeuvres and a lot of vehicles."
Abdul Basit Jabbar, who runs an insurance firm on the road, said the large number of parked cars and shops made it a more dangerous route.
He said: "This particular area is very busy and has so many young drivers.
"Because it's a shopping area you have people walking in the road and drivers have to brake all of a sudden.
"Then you have [the] person behind trying to brake at the same time but they haven't kept the correct distance."
Related Internet Links
The BBC is not responsible for the content of external sites.