Lois Preston killed in Derbyshire hang glider crash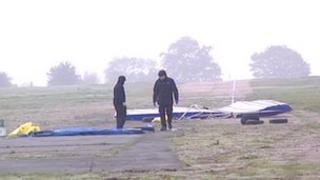 A 16-year-old Cheshire girl has been killed in a hang glider crash in Ashbourne, Derbyshire.
Lois Preston, of Warrington, was taking part in a training flight at Darley Moor when the glider crashed on Friday.
The teenager was taken to the Queen's Medical Centre in Nottingham but died later from her injuries.
Derbyshire Police said they were working with the Air Accidents Investigation Branch (AAIB) to find out what caused the accident.
A spokeswoman for the AAIB said two experts were at the scene of the crash.
She said: "Investigations continue today. The glider will be taken to AAIB headquarters in Farnborough."
The crash happened at an airfield operated by Airways Airsports.
In March, a 52-year-old man died in a hang glider crash in Derbyshire's Peak District, near Castleton.