Toyota announces 1,500 new jobs for Burnaston factory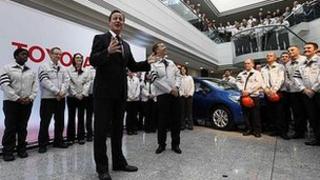 Up to 1,500 jobs are to be created with production of a new Toyota car at the firm's Derbyshire factory.
Toyota said it would be investing more than £100m at Burnaston to make it the sole European centre for making its next hatchback.
The first 500 workers are to be recruited in the middle of next year.
Prime Minister David Cameron, who was visiting the factory, said it was "fantastic news and a massive vote of confidence for UK manufacturing".
Production of the hatchback will lead to as many as 1,500 additional jobs being created in the next two years, the company said.
'Success story'
Mr Cameron said: "This investment and the jobs it will create provide a terrific boost not just to the local economy but to the whole country, and is a tribute to the great skill, hard work and sheer professionalism shown by the Toyota workforce.
"Toyota's commitment to the UK shows the growing strength of the UK car industry - it is our great British success story."
Didier Leroy, Toyota Motor Europe President and Chief Executive, said: "Toyota has a long and successful record of building vehicles and engines in the UK and our facilities here are among the finest in the world in terms of efficiency and environmental performance.
"The investment we are making will secure a dynamic future for Toyota Manufacturing UK as a leading manufacturing centre for our core models in Europe."
The new hatchback will be a classed as small family vehicle similar in size to Toyota's Auris model and cars such as the Ford Focus and Volkswagen Golf.
The car-making giant has seen global production recover after being hit by the economic downturn, the Japanese earthquake and tsunami and more recently, floods in Thailand.
Burnaston itself has shed hundreds of jobs in the past three years as much of the global car industry has struggled.
The factory currently produces the Auris and Avensis models and employs more than 3,100 people.
The company has four vehicle building factories across Europe and Russia as well as six other component making sites.