Slime blobs appear in Ockbrook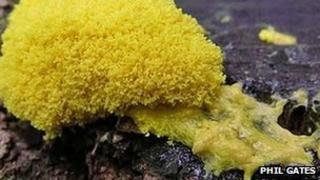 Residents of a Derbyshire village were left baffled when mysterious yellow blobs began springing up in grassland.
The slime-like substance was spotted in fields and in gardens near The Settlement in Ockbrook.
Alan Newman, from Erewash Borough Council, who was called to deal with the issue, said it was eventually found to be the slime mould Fuligo Septica.
He said the mould, which resembles scrambled egg, could move very slowly along the ground.
The Blob
Mr Newman said: "I'd seen slime moulds before but I didn't know what species it was.
"The lifeform we were seeing was a plasmodium which is multi-nuclear and can move very, very slowly just like an amoeba can.
"Apparently the film The Blob was inspired by this species but it can't do any harm at all other than possibly if someone was allergic to it they might get hayfever."
Mr Newman said the mould could be spread by spores blowing in the wind or by dogs being walked in the fields.
The substance, commonly known as "dog vomit slime mould", appeared in early December but has now almost disappeared.
He said he thought the cold weather had now killed it off but warned it could return in warmer wet weather.
The council said the mould was relatively rare and there had only been a couple of cases reported in Derbyshire in recent years.