Closure of Draka factory in Derby: Union wants answers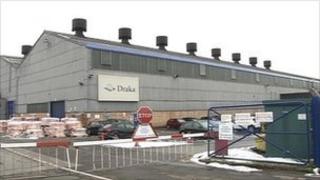 A union has said it wants to know why a Derby cable factory has been chosen for closure by its Italian owners.
Last week it was announced Draka, on Alfreton Road, was to shut by the end of the year with the loss of 200 jobs.
Parent company Prysmian said the closure was part of a reorganisation of its UK operations.
But Annmarie Kilcline, from Unite, said it was "bizarre" Derby would be closing when it enjoyed a more central location than the firm's other UK plants.
Production of industrial cables at the factory dates back to 1929, but the firm was acquired by Prysmian a year ago.
A 90-day consultation period has begun with workers, and Ms Kilcline said she would be holding meetings with management to gather more information about the decision.
'Alternative proposals'
She said: "We need to to find out what's happening with Prysmian sites across Europe and see if we can put alternative proposals to the company to save the site in Derby.
"It seems bizarre given Derby is the centre of the UK for distribution and transportation that you'd be closing a site here."
The company has said there would be redeployment opportunities for staff losing their jobs in Derby as it expands its operations at plants in Wales and Hampshire.
It said: "We very much regret that this proposal is necessary. However the company believes this action is essential in order to protect and sustain the future of our UK business."