Buxton to bid for Mary Portas regeneration cash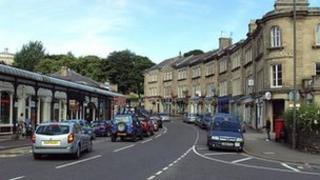 A Derbyshire town is to bid for a share of £1m being put up to regenerate British high streets using suggestions from TV retail guru Mary Portas.
Up to £100,000 of government cash is on offer for 12 towns to pilot the scheme, which was set up after Ms Portas led a review on revitalising town centres.
Her suggestions include setting up small teams of residents, shopkeepers and landlords to run the high street.
Towns in the scheme will be given advice and support from Ms Portas.
Roddie MacClean, from local business group Vision Buxton, said he wanted local people to make suggestions for the bid, which has to be submitted by the end of March.
"We have an awful lot going for us and by no means are we failing as a town but there's certainly a need to revitalise and make the best of what we've got," he said.
"The last thing we want people to do is to come to Buxton and be disappointed by what they find."
The scheme has been described as a "golden ticket" for town centres by local government minister Grant Shapps.
But the Local Government Association, which represents councils, said the pilot "simply tinkers around the edges".