Peak District action plan to prevent damage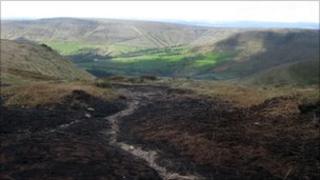 The Peak District National Park Authority has drawn up a 12-month plan to try to prevent damage by off-road bikes and 4x4 vehicles.
A total of 27 unsurfaced roads in the national park will be monitored as part of the campaign. All vehicles using the routes will be electronically logged.
A full-time rights of way officer has also been appointed.
The authority said it wanted everyone to enjoy the park but in ways that did not harm the environment.
Christopher Pennell, chair of the authority's Audit, Resources and Performance Committee, said: "In addition to our responsibility to protect the special qualities of the national park, we know that the issue of recreational 4x4s, quads and trail bikes using green lanes matters a great deal to local communities.
"We have listened to their concerns and in December committed £100,000 of extra resources to this work to protect the national park despite the budget cuts we have made in other areas."
The park, which attracts more than 10 million visitors a year, has land located in Derbyshire, Staffordshire, West Yorkshire, Cheshire and South Yorkshire.