Pride Park nature reserve could become home to cycle track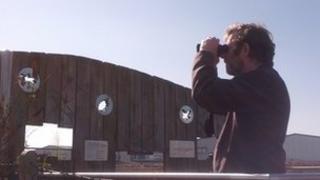 Wildlife groups in Derby are concerned that an outdoor cycle track could go through a local nature reserve.
A time-trial circuit is expected to be built next door to the city's new velodrome, on Pride Park.
But the planning application for the velodrome suggested the track, which has not yet been approved, will run acrossThe Sanctuary.
Derby City Council said work would start on the requirements for the cycle track "in the coming months".
A map, titled "Illustrative site masterplan - for information only", shows the closed 1.5km road circuit running between two bird hides and the reserve, which is closed to the public.
The approval of the velodrome plans, in March, gives the council few alternative options for the siting of the outdoor track.
Nick Moyes, who helped create The Sanctuary when he worked at Derby City Council, said it could now be the only possible location.
He said: "The plan that was given planning permission shows the indicative location of the cycle track wholly running around the inside of the designated local nature reserve.
"It's scary to see. It might be assumed that is what is going to happen."
The Derbyshire Ornithological Society is also worried that the site, which is home to skylarks, little ringed plover and sandmartins, could be developed by the city council.
Steve Shaw, the society's secretary, said: "It'll be well-nigh impossible to support lapwings and sandmartins [with a] cycle track which may well impinge on the sanctuary."
Cyclists 'disappointed'
Tony Roelich from Derby Cycling Group said: "We are very disappointed that the original plan to run the cycle track round the outside of the nature reserve has been changed so it is now on the reserve itself.
"We sympathise with the concerns of the nature conservation groups."
The outdoor track was not formally part of the velodrome planning application, and is expected to require its own approval.
Claire Davenport, Derby City Council's director of leisure and culture, said: "We are aware that key stakeholders, such as wildlife groups will wish to be consulted on the proposals.
"Every effort will be made to work alongside these residents to listen to and understand their concerns."