Duke of Devonshire opens Derbyshire's Hardwick Hall after revamp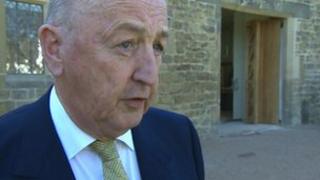 Hardwick Hall in Derbyshire has been opened, after a £6.5m revamp, by a descendant of the Elizabethan noblewoman who built the stately home.
The Duke of Devonshire, who owns Chatsworth House, said Bess of Hardwick would have approved of the work on the disused estate buildings.
The renovated stable yard includes a new 130-seat restaurant, visitors centre and 600-space car park.
The National Trust runs the estate and stately home near Chesterfield.
Biomass boiler
The Duke said: "I have personally followed this project with great interest, from the point of view of the restoration of heritage buildings using traditional skills and craftsmanship, and the fact that these buildings were built by my family.
"I think she (Bess of Hardwick) would have been thrilled because she loved value for money - so to see these buildings, which were falling into dereliction until the National Trust realised that they had ideas… which would help the visitors make a more enjoyable day out here, she would have been thrilled with that."
The two-and-a-half year renovation included the installation of a biomass boiler, wood burning stoves and solar thermal panels.
The new facilities, partly funded by English Heritage, East Midlands Tourism, lottery cash and Derbyshire Economic Partnership, will create 14 full-time posts and will be open all-year round.
The stately home will continue to close from October to February - except for the Christmas period.
Bess of Hardwick, regarded as one of the most capable and ambitious women of the Elizabethan age, was married four times before becoming the Countess of Shrewsbury in 1568.