Concern for wildlife over Peak District fire risk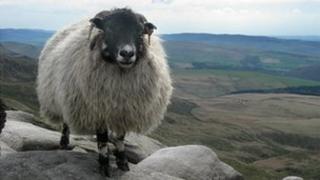 A lack of rain could lead to fires in the Peak District with "horrific results" for wildlife, it is feared.
The Peak District National Park Authority said conditions in recent weeks had dried out the moors making them especially vulnerable to fires.
It said moorland fires were tragic at this time of year as ground-nesting birds and lambs could be caught in the flames.
Signs are being put up to warn people to take extra care to prevent fires.
Sean Prendergast, head of field services at the authority, said: "Moorland fires are especially tragic at this time of year when wildlife and farm animals are rearing young.
"Ground-nesting birds and lambs can be caught in the flames with horrific results."
'Deliberate' fires
The authority's rangers mount extra patrols during times when fires are more likely.
However anyone who sees a fire or anyone acting suspiciously is asked to ring the emergency services.
Mr Prendergast said: "Moorland fires undo many years of hard work in managing these rare environments.
"Most fires are caused by human carelessness, but some fires are suspected to be deliberate.
"If people see anyone acting suspiciously on the moors we ask them to report it to the police."
People who visit the moors are being reminded never to light barbecues or campfires and to never drop cigarette ends or leave glass.