Derby metal thieves steal 60 drain covers in one week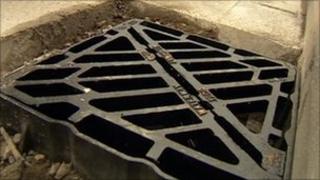 Derby City Council says it is facing hefty repair costs after more than 60 drain covers were stolen in just one week.
Dave Bartram, the city council's head of highways and engineering, said most of the gullies were stolen from streets around Osmaston Industrial Estate.
Each cover, which weighs between 15kg and 20kg, costs about £200 to replace.
Mr Bartram said he believed the industrial estate had been targeted as there were fewer potential witnesses.
"There are no houses around so no-one to really see them doing it and so it is easy for them to get away with it," said Mr Bartram.
"Somebody needs to have the right equipment to get them off the road. They also must have had some sort of flatbed truck or lorry to cart them away. It's an organised operation."
Mr Bartram urged any potential thieves to stop putting people "at risk" just for the sake of the "scrap metal value".
The council is replacing the gullies with lighter, less expensive covers in a bid to deter metal thieves.