Matlock Lido demolition completed by council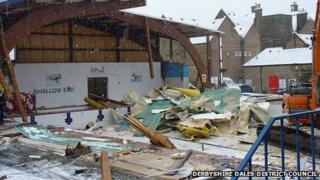 The demolition of a Derbyshire town's 74-year-old swimming pool has been completed.
Matlock Lido, built in 1938, was demolished after being replaced by a new £12m leisure centre on the outskirts of town last year.
Derbyshire Dales District Council said the site on Imperial Road would be used as a car park in the short-term.
But it said it hoped to incorporate the land into a major redevelopment in the future.
The Lido was originally an open-air pool until a roof was added in the 1970s.
The district council said a report on expressions of interest in the site would be heard in the coming months.