Derby election changes could save £350k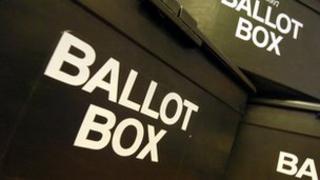 Holding elections once every four years could help save Derby council tax payers £350,000, it has been suggested.
The city council currently elects a third of the council at a time, meaning elections are held most years.
Phil O'Brien, head of democratic services at the council, said many authorities held a single ballot.
The Lib Dems said they liked the current system but Conservative and Labour leaders said their groups had not currently formed a view.
Mr O'Brien said: "Over a four-year cycle the election by thirds model might cost £585,000, but all out elections could be £235,000 once every four years."
Decision pending
He added holding elections less frequently would require longer ballot papers, costing an extra £20,000.
The Conservative party leader in Derby, Philip Hickson, said his personal view was that the current system "suits Derby well".
He said: "The consensus has been not to change it [but] there are arguments for and against changing the cycle."
Labour's leader Paul Bayliss said his group will make a decision on which system is best in 2014.
'More democratic'
But he said his personal view was that "Derby should move to all-out elections, once every four years."
Hilary Jones, the Liberal Democrat leader in the city said the current system was "more democratic".
She said: "Every year people can have a say on whether they think council services are being run well or not".
Any change to the system would not be expected to be made until the next electoral review, due in 2015.