Ashley Finlay death: CCTV appeal for witnesses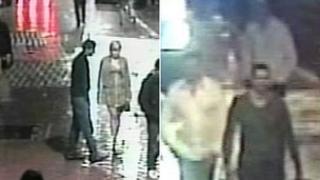 CCTV images of five people who may have witnessed a fatal attack in Derby have been released by police.
Ashley Finlay, 24, of Spondon, died soon after being found near the The Old Bell Hotel in Sadler Gate, Derby, at 03:30 BST on 9 April.
Police said a couple and three men who used the nearby Lloyds TSB cash machine may have important information.
A 29-year-old man has been charged with murder while a 45-year-old man is on police bail.
The man in the couple was described as having dark hair and was wearing a dark, long-sleeved top and dark jeans. He had facial hair and appeared to be smoking.
The woman was described as white with shoulder-length blonde hair. She wore a dress or skirt underneath a pale mid-thigh-length coat. She also wore high heeled shoes and carried a pale bag over her shoulder.
The group of three men were all white and wore dark trousers. Two wore white long-sleeved shirts and one wore a dark long-sleeved top.
On Thursday a private meeting of Derby Licensing committee suspended the alcohol licence of the Old Bell Hotel.
The suspension will be reviewed by the committee at the end of April.