Chesterfield welcome signs promote local events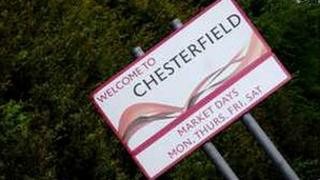 A Derbyshire town has installed welcome signs designed to help advertise local attractions.
As well as carrying Chesterfield's name and the traditional welcome message, the 11 signs have an interchangeable section to publicise events.
Destination Chesterfield, a body dedicated to promoting the town, said too many people just drove through the area on the way to the Peak District.
The signs are one of several improvements to public areas.
Others include refurbishment of Chesterfield Visitor Information Centre, new canopies on market stalls and upgrades to car parking signs.
John Burrows, Leader of Chesterfield Borough Council, said: "We want people to receive a consistent message about Chesterfield through the branding they see before they visit the town, when they arrive and while they are here.
"This all helps to give Chesterfield a unique identity and is one of many projects the council is working in partnership with Destination Chesterfield to achieve."
Destination Chesterfield is funded by the European Regional Development Fund and backed by businesses and the borough council.