New Pilhough Quarry extension blocked in Peak District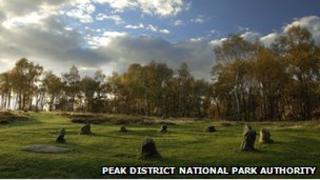 A quarrying company has been refused permission to extend one of its sites in the Peak District in Derbyshire.
New Pilhough Quarry, near Stanton-in-Peak, which covers 14.5 acres (six hectares), would have been increased by more than two acres (one hectare).
Owners Blockstone Ltd offered to exchange its rights to another quarry, on an Iron Age archaeological site.
The Peak District National Park Authority said the extra stone being proposed for extraction was too high.
If the plans had gone ahead it would have enabled the company to extract a further 146,970 tonnes of sandstone by 2022, said the authority.
It added that permission to extend New Pilhough Quarry was not a fair exchange for Stanton Moor Quarry, where 67,500 tonnes of stone could potentially be extracted.
'Crown jewels'
John Herbert, chair of the Peak District National Park Authority's planning committee, said it had been a difficult decision because of what was at stake.
"On one hand we have Stanton Moor, which is one of the crown jewels of the Peak District National Park," he said.
"We have a long-standing commitment to do everything possible to prevent quarrying from ever happening there [Stanton Moor] again and local communities strongly support that stance too.
"We felt the exchange in quarrying permissions being offered by the company was not sufficient to justify going against our planning policies."
The land around Stanton Moor also includes Bronze Age remains, a Scheduled Ancient Monument and wildlife habitats.
Andrew Gregory, director of Blockstone Ltd, said the company was considering its options and had not yet decided whether to appeal against the Peak District's decision, or resubmit its application.
He added that while Blockstone does not need to quarry at its Stanton Moor site at present, it may have to in the future if reserves run out at its other quarries.
The Peak District National Park Authority said quarrying permission at Stanton Moor was currently in suspension, but it could apply to reactivate it by submitting the environmental information needed with an agreement to work to modern standards.