Derbyshire family upset over mother's late hospital release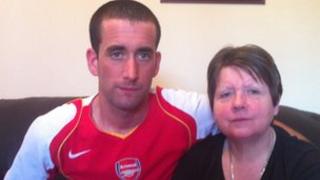 A Derbyshire woman says she was sent home from a Derby hospital in the middle of the night despite being "dazed and confused" from medication.
Diane Tamblin, 57, who suffers from diabetes, said the Royal Derby Hospital sent her home in a taxi on 2 April.
Her family has made a formal complaint saying the hospital acted in an "uncaring and unprofessional manner".
A hospital spokeswoman apologised for "falling short of the levels of care that our patients expect".
Sharon Martin, divisional director for medicine at Derby Hospitals NHS Foundation Trust, said: "It is often appropriate for patients to be discharged from the medical assessment unit, which isn't an inpatient ward, later at night, rather than admit them to a bed for the sake of it.
"That should depend on individual patient circumstances."
Mrs Tamblin was admitted to the hospital in the afternoon after experiencing severe chest pain and was given tests and told she would probably stay overnight, the family said.
Her daughter Emma said: "Myself and my siblings decided to leave for Mum to rest as we were told she would be staying at least the night and left under the agreement that we would return in the morning."
The hospital staff then woke Mrs Tamblin just before midnight and told her to get ready to leave.
She did not have enough money for a taxi but the staff ordered one and paid for it, Emma Tamblin said.
"For my mum - she remembers nothing of this taxi journey back to Langley Mill, only passing street lights as by now it was approximately 12.30am.
"Mum was so out of it due to her medication that they gave her at the hospital she does not remember going in her house or even to bed.
'Dignity dashed'
"It's disgusting to think a vulnerable 57-year-old was sent out of hospital this way, her dignity dashed by their uncaring unprofessional manner."
Ms Martin said: "We have received the written complaint from Diane's family and are currently looking into exactly what happened.
"Diane should not have been discharged when she was. This is unacceptable and falls short of the levels of care that our patients expect and we aim to provide.
"We are investigating further to understand the exact circumstances on the day Diane was on the medical assessment unit," she added.
Following recent national press reports about an increase in late-night releases, the NHS medical director Prof Sir Bruce Keogh has written to Strategic Health Authorities saying it was unacceptable to send people home when they may have no family support.