Derby Labour group in Euro 2012 big screen pledge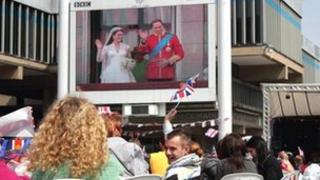 The Labour Group in Derby has said it wants to show all of England's Euro 2012 matches on the big screen if they win the local election in May.
Labour leader Paul Bayliss said it was the last chance to show the football games on the screen at the Market Place because it was due to be axed.
But Conservative/Liberal Democrat-run Derby City Council said the big screen's schedule was already full.
Football fans had campaigned for World Cup games to be screened in 2010.
'Only opportunity'
Mr Bayliss said that if Labour took control of the city council on 3 May it would make "immediate" arrangements to show as many of England's European Championship games on the city centre big screen as it could.
"The big screen should be used for national events, the Jubilee celebrations and the Olympics will be shown on it and so should the national football team," he said.
He said it would be the "one and only opportunity we will have" because the screen was to be removed by the city council as part of its budget review.
But he said Labour had no plans to save the screen if it takes control.
Philip Hickson, Conservative leader of the city council, said it did plan to show the final, whether England were in it or not.
"I understand there is space now should we get to the finals, but there's no programming space in the meantime," he said.
"Because the council doesn't control what goes on the big screen, it's scheduled many months in advance and it's fully programmed, they couldn't fit us in."
Anita Bhalla, the BBC editor who manages the big screens across the UK, said there was no problem showing all of England's games.
'No planning time'
Matches were not shown on the city's big screen during the World Cup 2010 matches which prompted a campaign among football fans.
One campaigner Tom Fulep said: "I would like to see it used for the people of Derby, but I'm sceptical about it all because this announcement has come in late.
"I don't think there's enough time to get it sorted, it should have been planned a year ago."
Mr Fulep added: "It's not as big as the World Cup, but it is a big tournament... and it's a time to be British."
Derby's Liberal Democrat Group leader Hilary Jones said: "The problem is the timing of certainly things like the semi-finals and the torch relay.
"The torch relay is going to use the Market Place and there will no doubt be a lot of setting up to do beforehand, therefore you wouldn't have such a big space to have a big crowd.
"Sometimes we have to pick and choose, and the torch relay is a once in a lifetime opportunity."
England's first game is to be played on 11 June against France. The competition in Poland and Ukraine begins on 8 June.