Pioneering clubfoot treatment celebrated at Royal Derby Hospital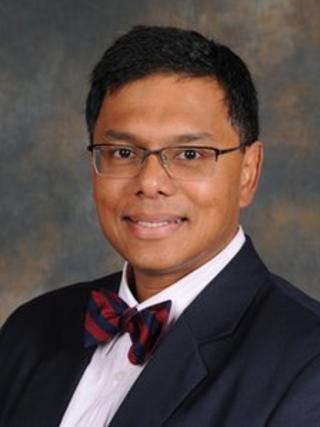 A ground-breaking centre which works with babies and children with Talipes, commonly known as club foot, has held a celebration.
The centre at the Royal Derby Hospital also discusses treatment with parents before the children are born.
About 70 children from around the country have been treated at the hospital since its club foot service launched in 2006.
A party was held on Saturday in the children's outpatients department.
Rohan Rajan, an orthopaedic consultant surgeon who leads the service, said the party was a chance for families affected to meet each other.
"I feel it's very important for the families of children with club feet to meet one another to discuss the treatment and celebrate the success with their family and friends, as well as with the specialist dedicated staff," he said.
Babies with club foot have deformed ankles and feet, which twist inwards so the soles of the feet face each other.
It happens because the tendons on the inside of the leg have shortened, the bones are abnormally shaped and the Achilles tendon has tightened.
Avoiding surgery
It can be treated through surgery, but Mr Rajan introduced a non-invasive method to the hospital.
Called the Ponseti method, it involves manipulating the limbs by casting and re-casting them over a number of weeks until they are in the correct position.
The sooner babies are treated, the less likely they are to need surgery and they can be diagnosed before birth using ultrasound scanning.
Parents are then seen by Mr Rajan to discuss future treatment.
"We have the first and only antenatal club foot service where an orthopaedic specialist sees the parents following an antenatal diagnosis of club foot to prepare them for the journey ahead," he said.