Dreamliner plane flown over Rolls-Royce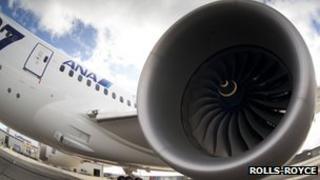 A Boeing 787 Dreamliner has been flown over the Rolls-Royce factory in Derby where its engines were made.
The aircraft flew low over the company's site on Victory Road at about 09:00 BST as part of a week-long visit to the UK.
Rolls-Royce Trent 1000 engines have been used in the new plane, which launched commercially last November.
Boeing said the flyover was a "thank you to Rolls-Royce employees for their contribution".
The Boeing 787 Dreamliner is built using carbon composite material, making it lighter and more fuel efficient than other planes
Derby diversion
The UK visit was organised to showcase the craft to its first British customers - Virgin Atlantic, British Airways and Thomson.
It flew over Derby en route from Gatwick Airport to Heathrow Airport.
The plane previously flew over the Rolls-Royce factory in July 2010 following an appearance at the Farnborough air show.
A Boeing spokesman said Rolls-Royce was one of 12 UK suppliers involved in the manufacture of its Dreamliner fleet.
Earlier this month, Thomson announced East Midlands Airport would be one of four airports used by its new fleet of eight Dreamliners from May 2013.