Taxi driver 'intimidated' by Misfits star Lauren Socha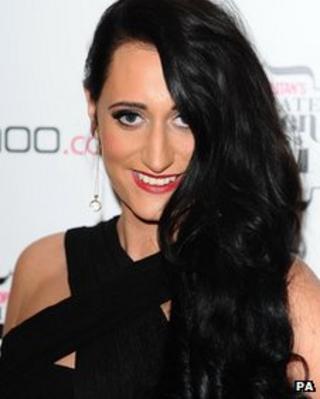 A Derby taxi driver who was assaulted by Misfits star Lauren Socha has said it was the worst abuse he had suffered.
The Bafta-winning actress admitted in court on Wednesday to racially aggravated assault.
Sakandar Iqbal, 52, said Socha had punched him causing him to almost lose control of his car.
He said: "I've never felt like that before in my life. I felt intimidated, really felt humiliated."
Socha was sentenced to a four-month jail term, suspended for one year, and 80 hours of community service.
She will also have to pay compensation to her victim and court costs.
The 21-year-old had originally denied the charge but changed her plea at the beginning of her trial in Derby.
The assault on Mr Iqbal - who has been a taxi driver for 20 years - took place in Derby city centre last October.
'Sad' behaviour
The court heard that Socha had been drinking in the Abbey pub in Darley Abbey from 17:00 until 02:00 GMT before the incident happened.
Mr Iqbal, of Rosehill Street in Normanton, said he picked Socha and her friend up from Darley Abbey.
He said he dropped the friend off before making his way to Socha's house in Littleover when she started saying he was taking her the wrong way.
Mr Iqbal said: "On the way back, because she'd had a bit to drink, because her senses weren't right, she goes to me: 'Where are you taking me, you should have gone right there' and I said: 'I'm taking you home, I know what I'm doing', and she just lost it.
"She started to swear at me, I felt uncomfortable.
"She punched me, I nearly lost control of the car. I stopped the car, got out and called the police.
"I've had people in the car who've gone over the top but you can have a laugh with them, but no-one's racially abused me.
"But she just kept on going, going, going. There was no stop to it until the police came along.
"I was really sad that this sort of behaviour should be going on.
"If you're in the public eye you're supposed to be a role model for other people."
Socha, from Littleover in Derby, won the best supporting actress award at the Baftas in 2010 for her role as Kelly in Misfits.
It was the only prize for the Channel 4 comedy drama about superhero teen delinquents which had led the shortlist with four nominations.