Man raises £30,000 in run between Derbyshire and Switzerland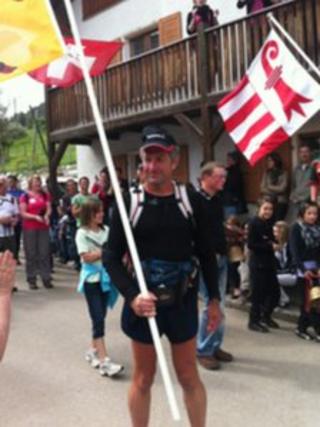 A man inspired to run between his two "home" villages in Derbyshire and Switzerland has raised about £10,000 more for charity than he expected.
Gerard Varin decided to raise money for two breast cancer charities because he knew of at least nine women from Duffield, Derbyshire, with the disease.
He set off from Duffield on 1 April and arrived in Seleute, Switzerland, on Tuesday having raised about £30,000.
He expects to arrive back in Duffield by train later, at about 16:00 BST.
Mr Varin, who originally hoped to raise about £20,000, said: "Every time it has been mentioned how much money is coming in it brings tears to my eyes.
"It's absolutely fantastic. The generosity, the camaraderie and friendship of people."
The 47-year-old was born in Seleute but has lived in Duffield for 20 years.
The self-employed landscape gardener lost his mother and father to cancer before they reached the age of 60.
He has raised money for Breast Cancer Campaign and a charity in Switzerland called Bejune.
Welcomed with cowbells
Fellow members of the Round Table provided him with free overnight accommodation, hot showers and food.
He ran for nearly all of the journey, but walked for some of the steep parts.
The planned route was 740 miles but his journey ended up being 806 miles - the equivalent of a marathon a day.
His two brothers cycled alongside him for parts of the journey, at different times, and his younger sister joined him on roller skates.
There were about 500 people waiting for Mr Varin when he arrived in Seleute.
"It was absolutely fantastic," he said. "The village is on a hillside. They were waiting for me on top of the hill with flags and big huge cowbells."
A large welcome is also expected at Duffield railway station.
He will be reunited with his four children and his wife Helen, who he has not seen since April 9.