Chesterfield's £50m Northern Gateway project moves forward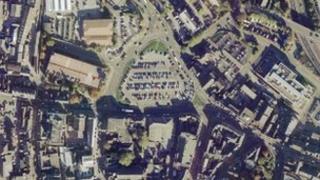 Plans to regenerate part of a Derbyshire town with a new hotel, cinema, shops and homes have taken a step forward.
Chesterfield Borough Council has chosen a developer to lead its £50m Northern Gateway project to redevelop the town's Holywell Cross area.
Wilson Bowden has been invited to transform the site into a "high quality shopping and leisure area".
The project is scheduled to be completed by the end of 2015.
Plans put forward by the developer include an 80-bed hotel, 85 homes, offices, shops, a 700-800 space car park and an outdoor performance area.
John Burrows, leader of Chesterfield Borough Council, said Wilson Bowden had presented the "strongest overall scheme for the site".
A full planning application is due to be submitted in the autumn, with work starting in late 2013.
George Cowcher, Derbyshire and Nottinghamshire Chamber of Commerce's chief executive, said: "This is a fantastic opportunity for Chesterfield to attract new businesses, retailers and shoppers and reinforce Chesterfield's position as the key centre in Northern Derbyshire."